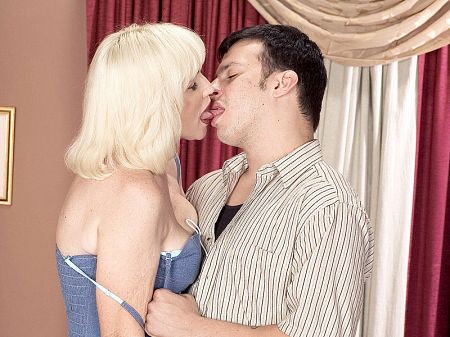 We have a huge inventory at The SCORE Group, and sometimes, photo sets and videos get lost in the shuffle. Somehow, this video of Lola Lee, who was 62 at the time, sucking and fucking Anthony Rosano's 28-year-old cock has never appeared on any website (it did appear in the movie Over 60 & Slammed).

Lola, sitting on a bed and wearing a very short skirt, counsels Anthony, who has just broken up with his girlfriend.

"I can't hold onto a girlfriend no matter what I do," he says.

"You have to work at it," Lola says. "I have a secret. I swallow."

Swallow? She swallows cum!

"And this is the glue that's held you guys together," Anthony says. "I've never had a girl do that."

That's not going to change in this scene. A girl is not going to do it. But a woman is.

Lola is a divorcee (she was married when this scene was shot), mother and grandmother. She's a bisexual who loves women but "adores men." She cums the hardest from having her pussy fucked.

Jewel, who shared a guy with Lola, once told us, "Lola likes to make believe she's this demure, proper lady from Texas, but I'm here to tell you that's not always true. She always says I'm hornier than her, but I don't think that's true, either. Whenever we talk on the phone, she's always telling me about whom she had sex with. Whenever we're with a guy together, she always goes after his cock first."

Lola recalled, "The first time I had sex, we had backed up the car so that we faced the beach. It was a 1939 Ford Coupe, and it was very romantic. After we had sex, we laid there watching the sunset and noticed a guy standing in the ocean with a pair of binoculars, watching us. I loved the idea of it then. I still love it now!"