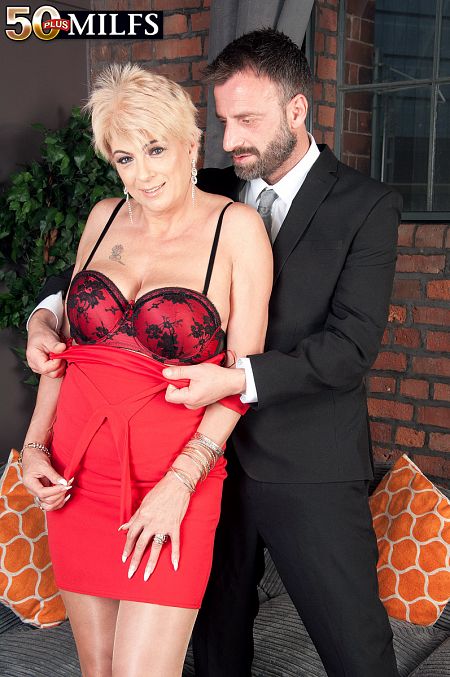 If this is how all of Dimonty's dates go, she's a fun woman to be with. Not that we doubted that for a second. We've already seen this 58-year-old wife, mother and grandmother sucking and fucking, and now she's doing it again. The last time, Dimonty fucked a young guy and said, "I prefer older men with lots of experience." The guy in this scene is a little closer to Dimonty's age. Just a little.
"I love being watched while having sex, which is why I love doing scenes which will be watched by thousands of people," Dimonty said. "I love having my mouth fucked. I love being fucked from behind."
Sure enough, in these photos, Dimonty does get her mouth fucked and does get fucked from behind.
Dimonty doesn't like sports. She likes sex. Her perfect day would be "spending the day in the shops buying sexy clothes then going out in the evening wearing them then a night of passion."
Dimonty is a nurse. She's a swinger and a nudist. She once turned up for a party by taxi, naked. She's been in 10-person orgies. And now she's fucked on-camera. We'd have to say she's done it all.