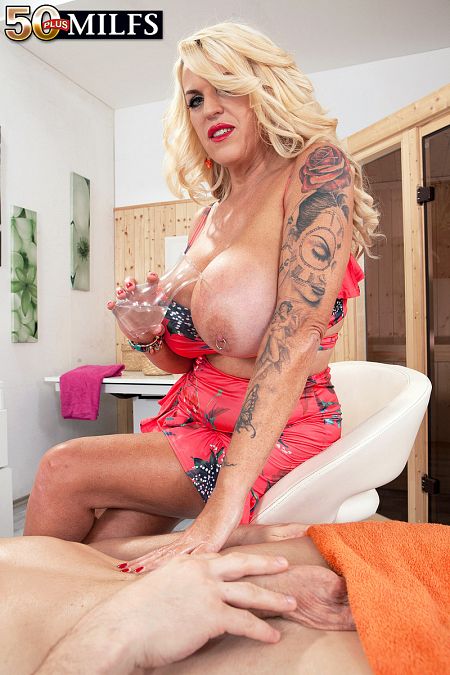 For 50PlusMILFs.com members, this is likely your first look at Shannon Blue, a 53-year-old divorcee from the UK who made a big splash in the British tabloids when she used her divorce settlement to super-size her tits from D-cups to M-cups.

But there's a very good chance you're being joined right now by a lot of SCORELAND big-boob lovers who have been waiting to see Shannon go hardcore ever since she debuted about 13 months ago.

"I can't get enough of my new boobs," said Shannon, who lives in Bulgaria. "They've completely transformed my life and they look and feel amazing. Most of my clothes are stretchy, so my breasts are always on-show."

Shannon loves to show off. She loves when guys stare at her big tits. They're there for the looking. She has a pierced pussy that's fucked hard in these photos. Shannon is not a shy person.

"My wildest sexual encounter?" Shannon said. "Being fucked up against a tree after being tied to it."

The thing is, before her transformation, Shannon wasn't a stripper or a nude model. She was never a swinger. She did go to a nudist resort.

"I tried it once in the UK," she said. "It was a good feeling, very liberating."

Shannon is a mom and a grandmother.

"I suppose I am a GILF," she said. Damn right!

"I like to initiate sex. If I need sex, I have to have it then and not wait. I like it every day and I am assertive about it. I swallow because spitting makes a mess. I love being licked and giving blow jobs and being massaged. I masturbate often and I like to wear Latex."

Here, Shannon is a masseuse who initiates sex. It's a very impressive XXX debut.