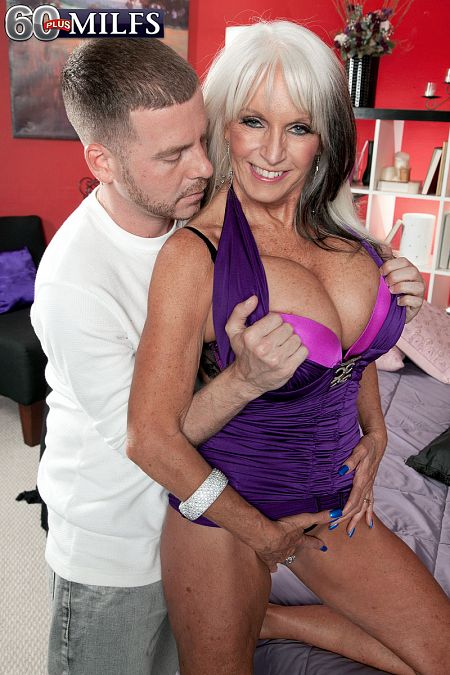 Sally D'Angelo is the kind of woman who wears panties with beads sewed in so she can cum just from walking or even crossing her legs. And you'd never know it unless she told you. She does Kegel exercises to keep her pussy tight for young cock.

"Everyone who's fucked me knows I get very loud," Sally said. "And it's not fake either. That's how I am. I cum a lot when I have sex. If the guy is good, or the girl is good, I'll cum hard. I can cum just sitting here talking about it practically. I know what I like sexually, and I know how to get it."

Sally, who's also a mother and grandmother, has a huge appetite for all things sexual.

"I like to be as naked as possible all the time. The less clothes I have on, the better. I walk around the house naked except for my heels. My husband likes it. He's a little perv. That's why we fit. You know what they say, dirty minds think alike. He likes to watch me fuck in my videos and scenes and every place else. I like him watching. It makes me hot. I like having his eyes on me while I'm with another man."

Some models dress in bulky clothes when they enter and exit our studio. They like to be incognito. Not Sally. She will get out of the car wearing booty shorts, a tank top and stripper heels. And she walks around town like that, too. We've never seen Sally in an outfit that didn't show off her tits, especially after she super-sized them.

In these photos, Sally gives one of her famous blow jobs then takes the stud's huge cock in her pussy and asshole. But before the ass-fucking begins, the dude primes her butthole with a toy. Because that's the gentlemanly thing to do. Yeah, right.