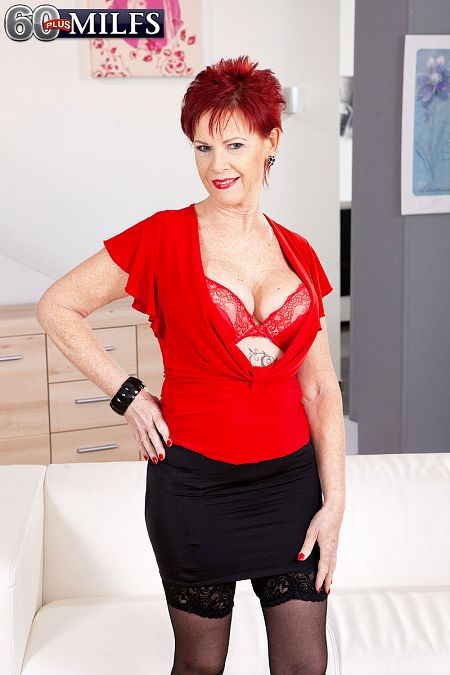 This is the second week we're devoting to 62-year-old wife, mother and grandmother Caroline Hamsel, and if you think it's going to be just like her first week, you have another think coming.
Oh, sure, we're kicking it off with solo photos today and a solo video tomorrow, just like last time. But on Wednesday, things change because on Wednesday, Caroline is going to get DP'd for the first time on-camera. Photos then. Video on Thursday.
A 62-year-old granny from the UK gets DP'd for all the world to see…proof again that you see stuff at 60PlusMILFs.com that you don't see anywhere else.
Caroline, a hot redhead with a smooth, shaved pussy, gets warmed up in these photos by spreading her fuck holes wide and fingering her very wet snatch. Mrs. Hamsel, who's wearing stockings and fuck-me pumps, is obviously very proud of her holes, judging by her smile when she's spreading.
And, so, while Caroline spreads her experienced pussy and asshole for all the world to see, we'll tell you that her favorite movie is Love Actually, her dream car is a Jaguar F-Type and her perfect night would consist of dinner and drinks with her husband at a nice restaurant "then sex when we get home." With Caroline, sex is always on the menu; she fucks as many as 20 times a week, sometimes with her hubby, sometimes with total strangers. Her fantasy: "An orgy photo shoot and a gangbang."
We made that orgy photo shoot fantasy a reality. We can't wait to see it, but for now, these photos will do quite nicely.