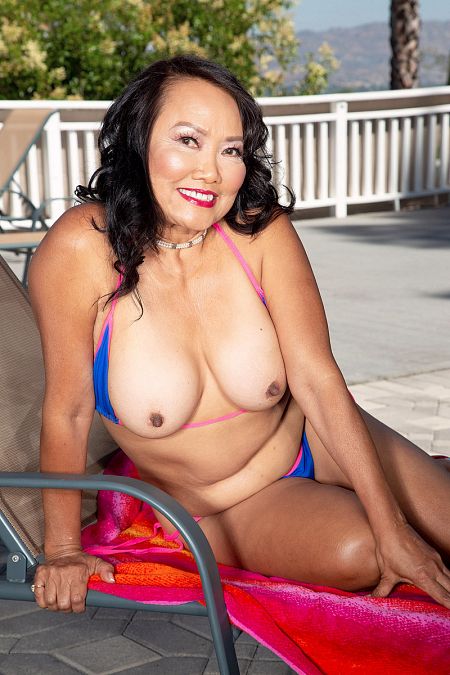 The debut of a sexy new 70-year-old is a huge event at 60PlusMILFs.com. We're very proud to introduce Mandy Thai, who was born on the Fourth of July, turned 70 just a few weeks ago and is here to show off her hot body and, later in the week, fuck.

This is Mandy's week at 60PlusMILFs.com. Solo photos today, solo video tomorrow, fuck photos on Wednesday and fuck video on Thursday. The guy she'll be sucking and fucking is young enough to be her grandson. But first, we get to appreciate her beautiful body in these hot poolside photos. Mandy, who's from Thailand, sheds her bikini, fingers her pussy and spreads her ass. Her pussy features a nice growth of hair. She's rightfully proud of her body.

"Older women have experience, and she knows what she likes," Mandy told us. "And she has more feeling, and she goes with the sex. She's not going to just lay there. She knows how to please a man. Guys like a woman who knows what she's doing."

Mandy is that woman. She lives in California. She's divorced. She's a mother and a grandmother. And she decided to become an adult model when "a friend of mine thought it would be neat to try it out. I didn't know it would be so much fun, too."

We asked Mandy if the people she knows would be surprised to see her here, and she said, "Yes, probably when they see how good I look naked."

Mandy enjoys playing tennis and going for long walks on Malibu Beach. She likes men who are confident, intelligent and daring. And she describes her perfect evening as "a nice dinner followed by an evening of oral sex."

Mandy, we've already made the reservations!