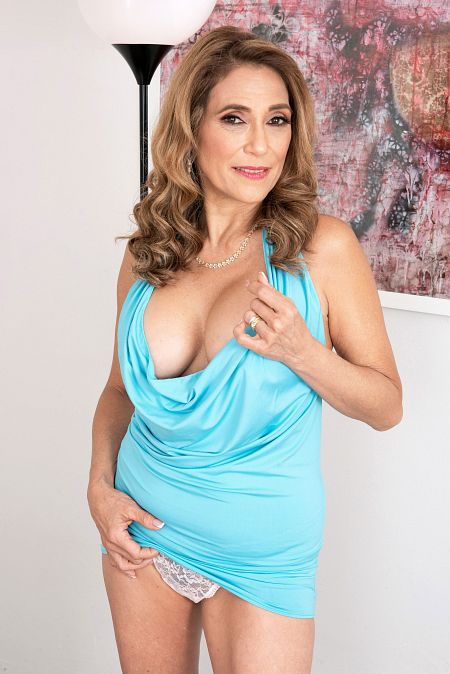 Here's what 58-year-old wife and mom Melissa Johnson is doing in her very first hardcore scene:

• Having sex with a guy who's plenty young enough to be her son.

• Deep-throating his big cock and really getting sloppy and messy with it.

• Having fun with the saliva strings and playing with them with her mouth and fingers, really having a grand ol' time. This is professional, seasoned porn star kind of stuff, but Melissa can do it because she has the kind of sexual experience that only comes with age.

• Taking that cock deep in her pierced, semi-hairy pussy.

• And then taking it deep in her experienced asshole (while spreading her pussy so we can get a nice look at her ultra-pink cunt).

• Finally, letting Tyler shoot his load all over her just-fucked asshole.

Yep, Melissa, who was born in Honolulu and lives in Romania, does all those things, making this one of the hottest debuts we've ever presented.

We asked Melissa if she had ever had sex with a much-younger guy, and she said, "Yes. I had sex with a 29-year-old last year. He was my friend's nephew."

Hot.

Very obviously, Melissa loves anal sex. She also loves to show off her goodies; that becomes apparent by the way she spreads her pussy when the cock is in her ass.

Enjoy. And just think: the video comes next.