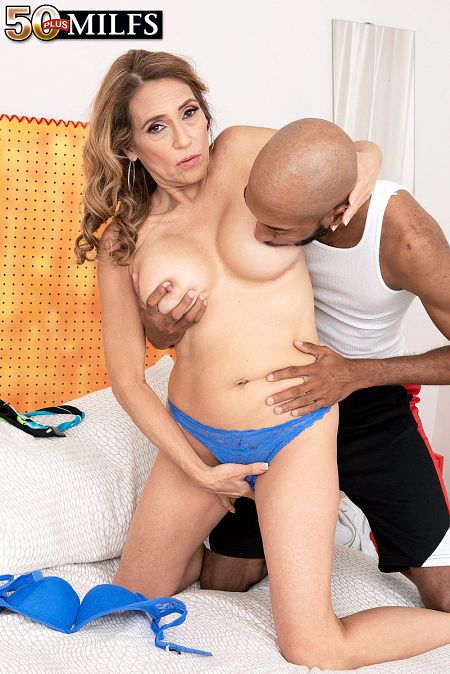 Melissa Johnson is enjoying some alone time in her bedroom, a girl and her vibrator, when, unbeknownst to her, her son's friend, John, walks into the house. Her son had given him permission to take a shower there, but when John hears moaning, he decides to investigate. Is everything alright?

Everything is more than alright. Everything couldn't be better. Mrs. Johnson is lying in her bed, wearing sexy lingerie, legs spread, toy buried inside her tight pussy, having a good old time. John is shocked by what he sees, but that doesn't stop him from looking. And looking. Finally, Mrs. Johnson catches him, and although he tries to stammer out a lame excuse, she can tell by the bulge in his pants that he wants her.

John, by the way, is only 23 years old.

Melissa is 58 years old, but when there's wet pussy and hard cock, age difference doesn't matter. Especially when the woman with the wet pussy is horny and hot with big tits and a sexy body. Melissa proceeds to take out his big, black cock and drool all over it, give him a sloppy blow job and suck his balls and then have her son's friend fuck her pussy. In the end, he shoots his load all over her face.

So much for that shower.

Melissa was born in Honolulu and lives in Romania. She's a webcam model who was discovered for us by 60Plus MILF Rita Daniels. When we asked Melissa if the people she knows would be surprised to see her here, she said, "Some yes, some no. Our best friends know that I have been a webcam model for years and that my husband and I love sex. Most of my family does not know."

Melissa has been a flight attendant and a first- and second-grade English teacher. Just imagine: Someone's former grade school teacher is now sucking and fucking on-camera for all the world to see. If that's not hot, we don't know what is.