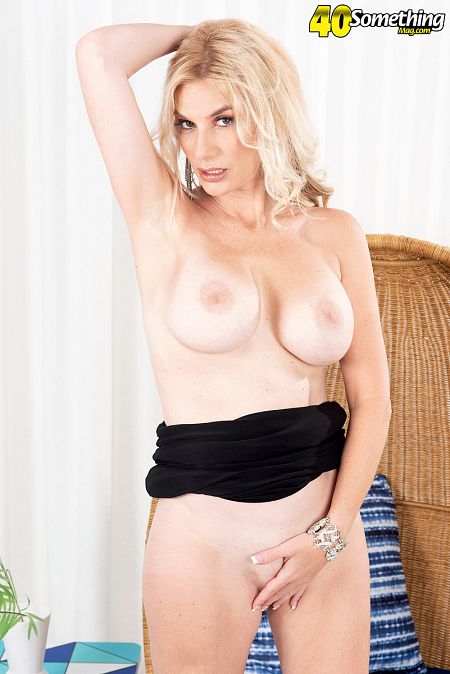 "My family and friends would be shocked to see me here," said Lexi Sapphire, a 49-year-old mom and brand-new first-timer from Florida. "I'm a very conservative person who would never have dreamed of entering this world."

Lexi said that despite the fact that she used to be an exotic dancer who, as she said, "got to party, dance and flirt with men."

"This is a step above stripping," Lexi explained, "and I guess every little girl's dream is to be an actress, and in my little world, this is my acting gig."

But there's not much acting going on today as this beautiful, sexy MILF shows off her hot body (big, fake tits, tiny waist, long legs) and gets herself off for real, and there's not going to be much acting going on Thursday, either, when she'll suck and fuck on-camera for the first time.

"I like it," she said of her new experience. "I'm pretty comfortable. There's always nervousness when you're doing something new, but you have to overcome that. It's exciting. There's a sense of naughtiness to the whole thing. I like being naked. I like wearing sexy clothes, heels."

Lexi was born in Ohio and grew up in Italy. She enjoys shopping, dancing, swimming in her backyard pool and going to the gym.

As for her conservative side, Lexi said that when she goes to the supermarket, she wears short shorts, and skirts "but nothing provocative. I like to go naked in the backyard pool."

These days, in addition to being a mom, Lexi is a nursing assistant. She's also been a bartender and a factory worker and has worked in retail stores.

And now she's here. Welcome to the Big Show, Lexi!