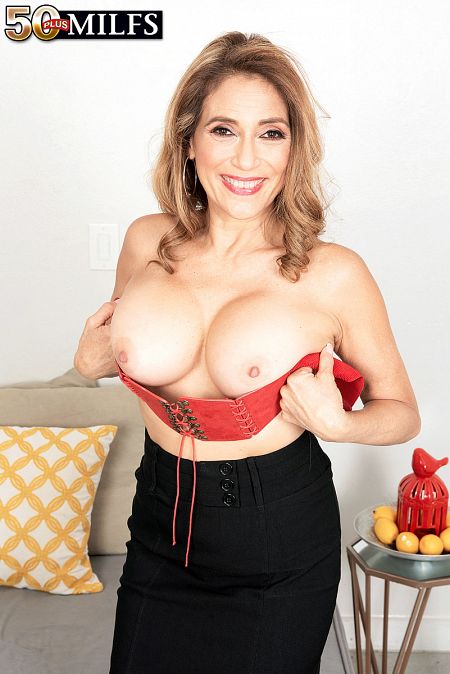 "Can you believe I'm actually scared?" wife and mom Melissa Johnson said. "I'm 58 years old, and this is my first porn shoot."

We're not surprised to hear she's a little nervous. Most women would be, posing nude for the first time. But Melissa has nothing to worry about. She looks great and we're all going to love her. She has a great body with big tits and a very pink pussy. Her pussy is really a beauty, especially when she opens it up for all the world to see. It has a little bit of hair atop it, too.

Oh, and her asshole gapes a bit. Why does her asshole gape a bit? You'll find out the reason later in the week.

This is Melissa's grand opening week at 50PlusMILFs.com: solo photos today, solo video tomorrow then her first XXX photos Wednesday and her first XXX video Thursday. And, you guessed it, in her first on-camera fuck, Melissa is going to get her MILF butthole filled with cock. How's that for starters!

But first, Melissa is going to put on a private show for us. She's going to spread and finger her pussy. She's going to get on all fours and spread her legs really wide so we can see her tits hanging while she plays with herself. Very nice.

Melissa was born in Hawaii and lives in Romania with her husband of 30 years. She's a webcam model, and she was put in touch with us by 60Plus MILF Rita Daniels. Thanks, Rita!

We asked Melissa if the people she knows would be surprised to see her here, and she said, "Some yes, some no. Our best friends know that I have been a webcam model for years and that my husband and I love sex. Most of my family does not know."

Melissa has been a flight attendant and a first- and second-grade English teacher. Now she's where she belongs.