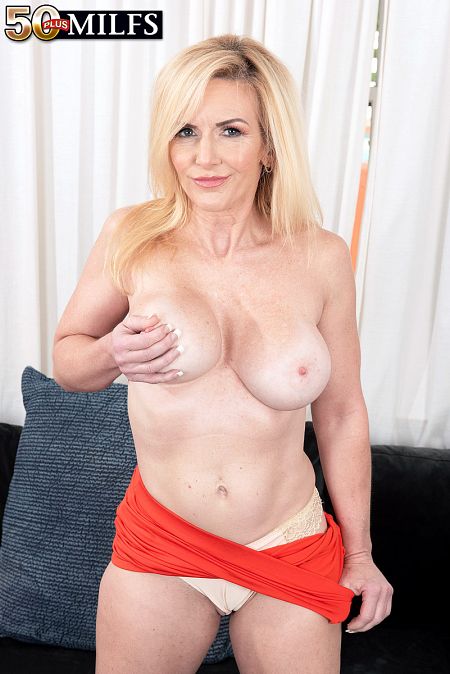 "I'm a MILF," 50-year-old divorcee and mom Marilyn Masters said. "I enjoy it. I guess I never thought of myself as a MILF, but apparently I'm quite the MILF."

She is quite the MILF with her sexy body, big, fake tits, tight ass, blond hair and beautiful face. Marilyn debuted at 50PlusMILFs.com earlier this month, and this week she's back for more: solo today, sucking and fucking Thursday.

Marilyn used to compete in fitness competitions. She said, "This is me out of shape." Can you imagine what in-shape Marilyn must look like? We'll take either one. She also used to be an exotic dancer. Stripper, that is. She told us she's getting more adventurous with age.

"I've had threesomes before and a foursome," she said. "The threesomes were always with another girl and a guy. Never two boys. Finding two willing men is difficult. Most men are like, 'I'll do two girls but I won't do it with two guys.' And I'm like, 'If I'll give you two girls, why won't you give me two guys?' It's definitely on my bucket list."

Marilyn should return so we can make her fantasy come true.

"I'm an artist," Marilyn said. "I really enjoy creating beautiful things."

Watching Marilyn is a beautiful thing.