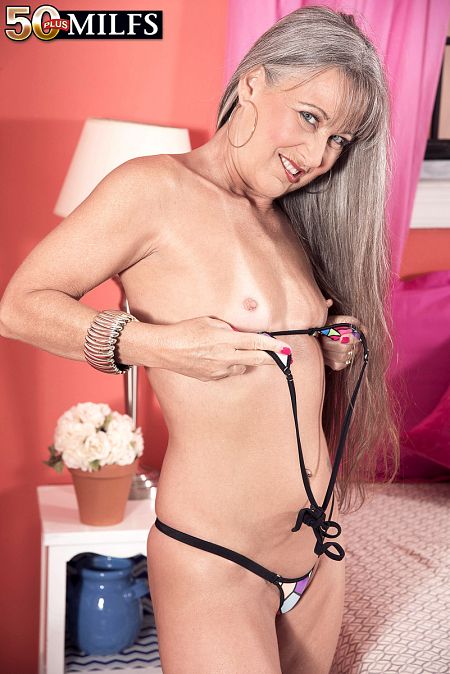 The average person probably wouldn't believe that a woman who's in her 50s can look as good in a bikini as Leilani Lei does. Here at 50PlusMILFs.com, we know that 50somethings can still look great, but even so, Leilani takes that to another level. In these photos, the bikini she's wearing under her tennis dress barely covers her tiny tits and shaved pussy. Her stomach is flat as a board. She looks like a little fuck doll. There are 18-year-old girls who would love to look as good as silver-haired Leilani does here. Just amazing.

"My man cooks, cleans and runs errands so I can concentrate on being sexy," Leilani told us.

It's working. And this week, we get to concentrate on Leilani being sexy.

Today: solo photos. And Thursday, a white-hot video of Leilani and 60Plus MILF Rita Daniels sharing a big, black cock.

Leilani started out at 40SomethingMag.com in 2011 and returned to 50PlusMILFs.com in 2015. She's very flexible and enjoys getting her legs all the way back so we can look straight into her perfect pussy and puckered butthole. In addition to her obvious features, Leilani also has--as one our studs pointed out--very sexy feet.

Leilani listed her top three sexual encounters: "Being bent over the hood of my car on the side of the highway in Italy while my husband fucked me from behind, my first shoot with The SCORE Group and my first threesome."

What makes her laugh? "Ticking my feet and pure silliness."

What makes her horny? "Music, laughter, sunshine, a hard cock and wet pussy."

There's plenty of sunshine in Florida, where Leilani lives. The hard cock and wet pussy she'll get later this week.