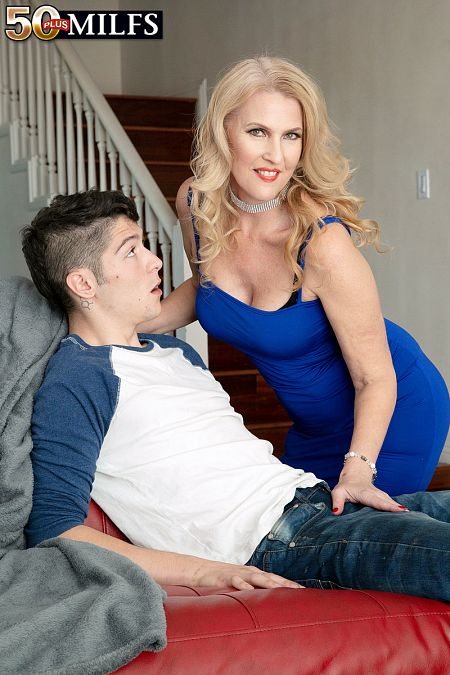 So this young dude (he's 24) walks into a house, sits on the staircase and takes out his smartphone to watch a video...a video of Lacy Cummings fucking at 50PlusMILFs.com. He likes what he sees. But then, suddenly, the very same Lacy Cummings comes walking down the steps behind him. Blond hair. Tight body. Little blue dress. What's she doing here?

"I guess you found out my dirty little secret," she says, shocking the hell out of him.

"Ummm, apparently," he says. "How long have you been doing that?"

"For a little while now," she says. "I guess you've been jerking off to my videos."

"A little bit. Is it weird?"

"No," she says. "I guess you're going to be my new son-in-law, so we have to learn to trust each other."

Wait a second...son-in-law? He's going to marry Lacy's daughter?

Indeed!

But there's going to be more to their secret than what Lacy is doing in that 50PlusMILFs.com video. Their new secret is her future son-in-law is going to fuck his future mother-in-law, and he's not just going to fuck her mouth and pussy. He's going to fuck her tight ass, too, and shoot his load all over her face.

We wonder what Lacy's daughter would think about that?

"My family members would be pretty surprised to hear that I was here doing this," Lacy said.

Lacy on younger men: "The younger guys are always looking at me. There's something about a mature woman that they are really attracted to and makes them wild and submissive to me."

Lacy on anal sex: "It just depends on the situation and the guy, really."

The situation and the guy today: She caught her future son-in-law watching her fuck films. Might as well make a sticky situation out of a sticky situation, right?