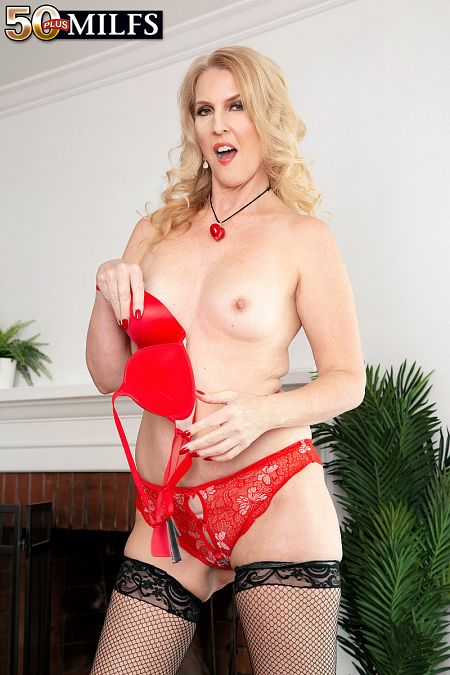 The last time we saw Lacy B. Cummings, in 2016, she was a 48-year-old divorcee and mother of three who was fucking on-camera for the first time at 40SomethingMag.com. Blonde, long-legged and very sexy, Lacy did it all, including getting her sweet ass fucked on-camera for the first time.
Now she's back. Lacy is 52 years old, and today, she's making her 50PlusMILFs.com debut. This woman is aging very well. She's tall (5'8″) and trim with long legs and a great body. Here, she's wearing a short, tight, sexy dress, fishnet stockings and crotchless panties. She gets naked (except for the stockings and shoes) and fucks herself with a dildo.
So, what's Lacy been doing these days?
"Traveling a lot," she said. "Working, relaxing, modeling, massage." Swedish massages. With happy endings, of course.
As for the traveling, Lacy seems to be engaging in sexual tourism, meaning everywhere she's gone, sex has been the main event.
"I went to Singapore," she said. "Had lots of good sex, lots of good food and lots of good culture. I went to Panama and had a great time. Did a lot of shower sex there. That's a favorite of mine. It kind of emulates a waterfall. I went to Hawaii. That was nice. I did sex on a beach."
And whaddya know, she traveled to Southern California to shoot for us again and had sex again! You'll see her new hardcore scenes later in the week. For now, enjoy Lacy's happy return.