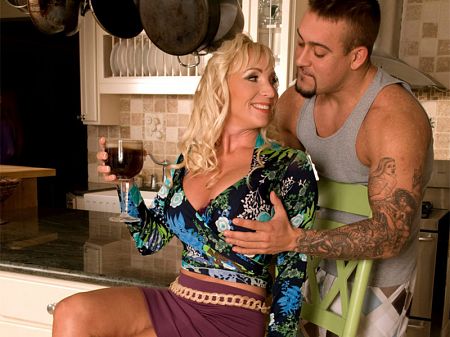 Born in Stockholm, Sweden, now living in Arizona, 40-year-old Anika Anderssen is a classic Swedish blonde with her long legs, shapely figure and big tits. She's a real-life divorcee and mom.

"I love to dress super-sexy in public places," Anika said. "That woman in a short, tight, denim skirt and stripper shoes at Costco or Target? That's me! I live in Scottsdale, Arizona and because of the weather, I can dress like that year-round."

So, yes, Anika is a real-life divorcee and mom, but she does some things most real-life moms don't do, like coming to our studio to fuck big-dicked porn studs.

Today, Anika is sitting at her kitchen counter, wearing a low-cut top and a short skirt. She takes an ice cube and sucks on it then runs it over her nipples to get them hard. Anika has big, tan-lined tits. When her guy gets back from the gym, she gives him a lusty blow job in which he fucks her mouth and she sucks his balls. Then he fucks her on the kitchen counter, going balls-deep inside her shaved pussy, before they move to the couch for more sucking and fucking. Anika is really into how her pussy juices taste on his cock. Also, check out how hard her nipples are when she's sucking his dick.

How does Anika look so good?

"I do cardio workouts six times a week and I work out with weights two times a week," she said. "It's very important to me to keep my body in the sexiest shape I can. I also like to play racquetball and go running. Having a lot of sex keeps me in shape, too."

Anika told us she got into porn because "the men in it are very dominant, have big dicks and can fuck for a long time. I love getting oral, and if I can have sex four or five times a week, I'm happy. If I can't, then I'll masturbate with one of my vibrators every day."

Anika's kinkiest sexual encounter: "Blowing a boyfriend while he and I were driving to Mexico on vacation. He sure enjoyed that! I don't read about many girls doing that. I think most guys would rather be parked and get a blow job than actually driving with a girl's head bobbing up and down on their cock, but he didn't complain."