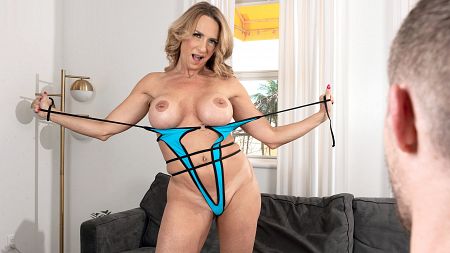 This scene starts with a bikini show. It ends with a cock in 51-year-old Kenzi Foxx's tight ass and a load of cum on her butt. Call it a voyage of anal adventure.
Kenzi, who's married and has three children, looks smokin' hot in her tiny bikinis. She has big tits, a little waist and fine ass. There are girls half her age who would kill for her body. For the first seven or so minutes of this video, Kenzi teases, but she's not teaser. She's a pleaser.
"I have a surprise for you," she says, taking off her bikini. Is her pussy the surprise? Is her ass the surprise? Well, kinda. The surprise is when Kenzi inserts a butt-plug (the same one she used in her solo scene, the one emblazoned with "Daddy's Cock Whore") in her ass and invites her stud to eat her pussy. She has a big clit, so he knows just where to go. Next, she sucks his cock and balls, and she doesn't shy away when he fucks her face.
"Fuck that pussy hard," she says, tits jiggling as they fuck, but when he shoves his cock inside her asshole, she's practically at a loss for words.
50Plus MILFs: You're very happily married, right?
Kenzi: Yes, I am, and he's wonderful. He's supportive of all my sexual habits. My previous husband was very conservative, and I think that's why we split up. I needed more excitement, more adventure. I love showing my body off. My husband and I love going to parties because he loves watching me do gang bangs.
50Plus MILFs: Would the people back home be surprised to see you here?
Kenzi: The people who know me in my vanilla life would be shocked. I come off as innocent and naive. But close friends would not be surprised at all. I love to be watched. I go to clubs and meet guys there so people can watch me get fucked in the open play rooms. I love to have an audience and put on a show.
50Plus MILFs: Have you had sex while watching your scenes?
Kenzi: Yes. It's very sexy hearing myself in the background when my husband is fucking me or when I'm sucking his cock.