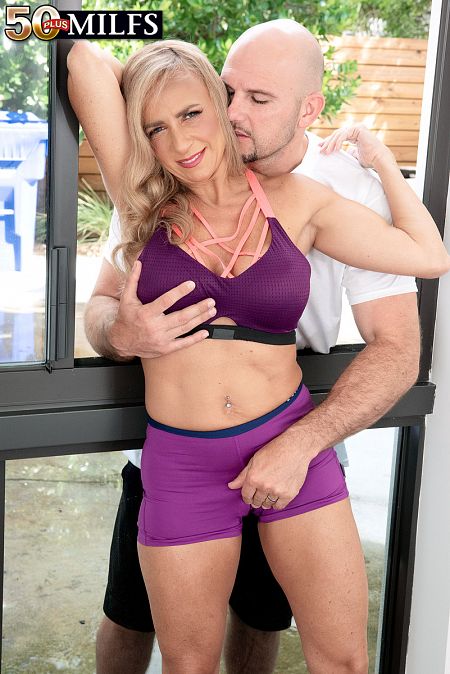 Earlier this week, 50-year-old first-timer Kenzi Foxx introduced herself to us by fucking her pussy and ass with toys. Today, Mrs. Foxx (she's married with children) is sucking and fucking JMac's huge cock in her hardcore debut. Don't you love how these MILFs don't make us wait?

"I love to be watched," said Kenzi, who's going to be watched by admirers all over the world, including you. "I go to clubs and meet guys there so people can watch me get fucked in the open play rooms. I love to have an audience and put on a show with multiples."

By "multiples," she means multiple men. Or women. Whatever it takes. Kenzi said her kinkiest sexual encounter was "a gangbang with three of my closest male friends and a couple more of their friends." She also said, "I love the touch and feel of a woman. They taste so sweet. I love sucking on their nipples and making them wet then licking up all their juices."

Kenzi is from Brooklyn, New York and lives in Orlando, Florida. She has DD-cup tits and is an aerobics instructor and a personal trainer. That's why in this scene, she's at home working out, wearing a tight workout top and workout shorts, when JMac jogs by and sees her through the window. He can't resist. She can't resist. And the magic happens.