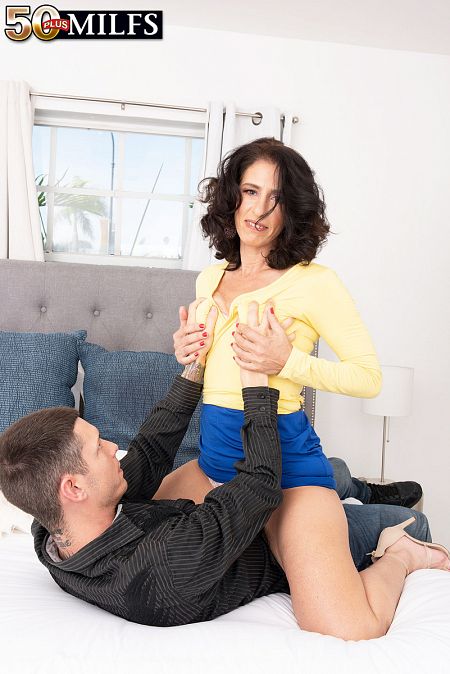 By now, most of you know how much 52-year-old former porn star Keli Richards enjoys having her tight ass pounded. JMac really worked it over in her first scene for 50PlusMILFs.com. And now Keli's back for more...more cock sucking. More cock in her well-fucked pussy. More cock in her ass. Seriously, you have never seen a woman more into anal than she is.

When this scene opens, Keli is standing in front of a window, looking very sexy. Tyler, who's 32, peeks in and likes what he sees. She doesn't shoo him away. Instead, she lifts her leg so he can get a better view. Then she invites him inside and sucks his cock. And then she opens up both of her fuck holes for his dick.

"I'm loud and I love to be manhandled," said Keli, who's divorced and a mom. "I want a man to walk into the room and tear the shirt off me. I just want him to grab me like I've never been manhandled before because I like it rough and I like it sexy and I like it hot. Then I just want you to grab those nipples and just bite 'em and lick 'em. There is no softness here. Absolutely none."

There's no softness in this scene. Absolutely none.