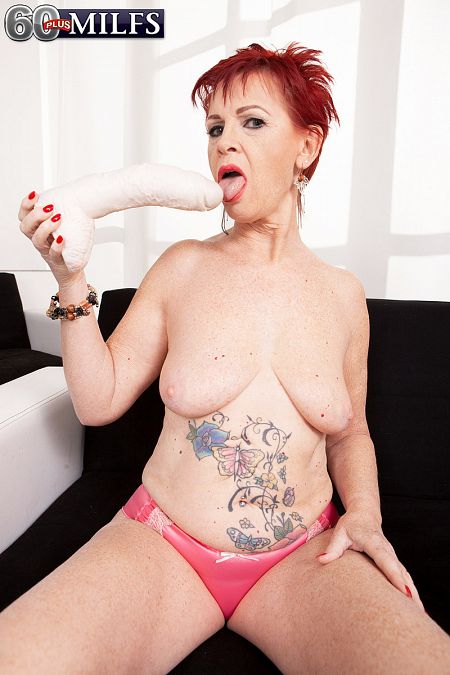 "I wanted to do a professional photo shoot, so I asked my husband to research it, and he found you," said Caroline Hamsel, a 62-year-old mother and grandmother from England.

We're happy he found us. We're very happy that this beautiful, sexy redhead decided to take the plunge, and we're celebrating with Caroline Hamsel Week at 60PlusMILFs.com: solo photos today, solo video tomorrow, Caroline's first hardcore photos on Wednesday and her first hardcore video on Thursday. In today's photos, she fucks her old, tight pussy with a lot of toys.

"The people I know would definitely be surprised to see me here," Caroline said. "My family and most of my friends don't know what I do."

Caroline stays in shape my jogging. She enjoys going to restaurants, dancing and watching movies and TV. We asked her if she usually wears panties, and she said, "Mostly no." What does she want to do that she hasn't done?

"An orgy photo shoot and a gangbang," she said. We made a lot happen during Caroline's visit to our studio in Prague, Czech Republic. Did we make any of those things happen? Stay tuned and find out.