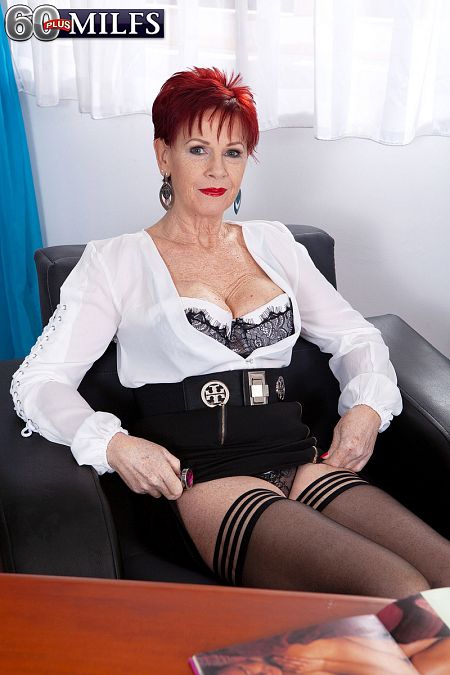 "I love anal sex," said Caroline Hamsel, a 62-year-old wife, mother and grandmother from the United Kingdom.

And today, Caroline gets what she wants: a big, fat cock up her tight asshole...a granny asshole that's been primed by a butt plug. By the way, the guy fucking her ass and cumming all over her asshole is almost young enough to be her grandson. He isn't her grandson. Of course he isn't. But we just thought you might like to know just how young he is.

60Plus MILFs: Would the people who know you, besides your husband, be surprised to see you here?
Caroline: The people I know would definitely be surprised to see me here. My family and most of my friends don't know what I do.

60Plus MILFs: Are you changing sexually as you're getting older?
Caroline: Definitely. I'm becoming more sexually assertive. I've been with a lot of younger men, some as young as 19. I love their energy and hard cocks, and they seem to love me, which is very nice.

60Plus MILFs: Why wouldn't they love you? You're beautiful and sexy and you bring experience to the bedroom, all good things.
Caroline: Well, I have a lot of sex, sometimes 15 or 20 times a week, including with my husband, so I'm getting even more experience. There are not a lot of women my age I know who have sex as much as I do. They don't know what they're missing. I'm finding that I'm becoming hornier and more-sexual as I get older. My husband can't keep up with me!