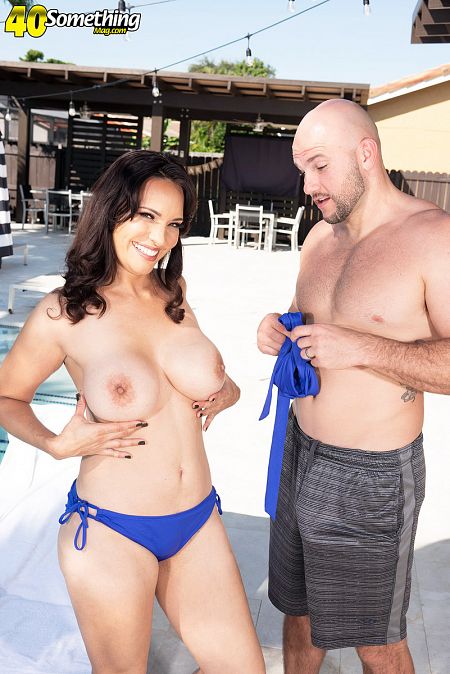 Gianna Chanel, a 47-year-old divorcee and mom, is enjoying a beautiful, sunny day by the pool in Miami, Florida. She's wearing a bikini that shows off her hot body: big boobs, long legs, sumptuous curves. She's all alone at first, but then her brother-in-law comes along. He's looking for his brother, but Gianna wants him. You see, her brother-in-law is JMac, and she tells him, "I've always wanted to be with a porn star."

She sucks his cock and balls right there by the pool, then they go inside and Gianna sucks him some more before sitting on his hard-on. JMac fucks her good, giving her tight pussy the porn star treatment, and cums on her tits.

Maybe Gianna should be a porn star, too. She's been a lot of other things. She has worked in construction, housekeeping, car sales, clothing stores, credit counseling, modeling gigs, acting, babysitting and even as a legal secretary. We think she belongs here.

40SomethingMag.com: Do you masturbate?

Gianna: Yes. Mostly in the morning.

40SomethingMag.com: Are you into any fetishes?

Gianna: Yes. I have a foot fetish. I also like to play dominatrix with submissive guys.

40SomethingMag.com: What sexually satisfies you best?

Gianna: I love toys.

40SomethingMag.com: Do you usually initiate sex or do you wait for him to make the first move?

Gianna: I usually wait for the guy. He has to be really horny and it has to be the right place at the right time.