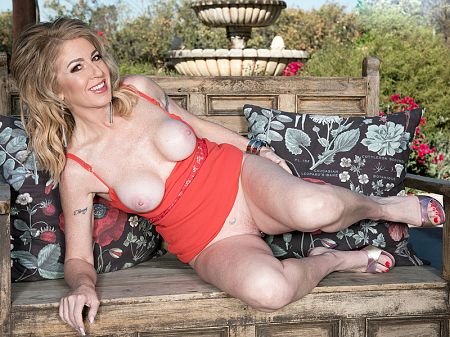 Back in 2011 when Sindi Star debuted at 40SomethingMag.com, we did a video called "Getting To Know Sindi Star's Snatch." As we said at the time, "For just over 24 minutes, the conversation between editor Dave and Sindi is focused on that beautiful, pink cunt between her legs. She tells us how she likes it to be treated. She tells us all about the time she had it pierced. She tells us where to lick it."
Today, Sindi, gives us a sequel to that video. It's a solo scene that was shot outdoors, but you don't have to listen to the editor's annoying voice. You just get to hear Sindi telling you what she wants you to do to her pussy. The camera gets in tight while she pulls aside her little black panties and two-fingers her pinky, pierced, meaty pussy. Then Sindi takes off her panties and we get even better views. For most of 18 minutes, 37 seconds, you'll be focused on Sindi's snatch. Her butthole, too.
Sindi was really born for porn. She's so sexy and naughty.
"I was conceived while my mother was in Las Vegas," she said. "I was kinda born a very naughty girl. I love showing off my body and curves. I play with my pussy every night. Mostly I use a vibrator right on my clit, and it makes a funny noise like the gardener is outside."
No vibrator here. Just Sindi's long fingers exploring the insides of her cunt.
Sindi is divorced. She's a mom. She used to be a swinger but isn't anymore. She told us, "I enjoy being nude around the house and in the sun. When I'm home, I'm usually naked and playing with my pussy."