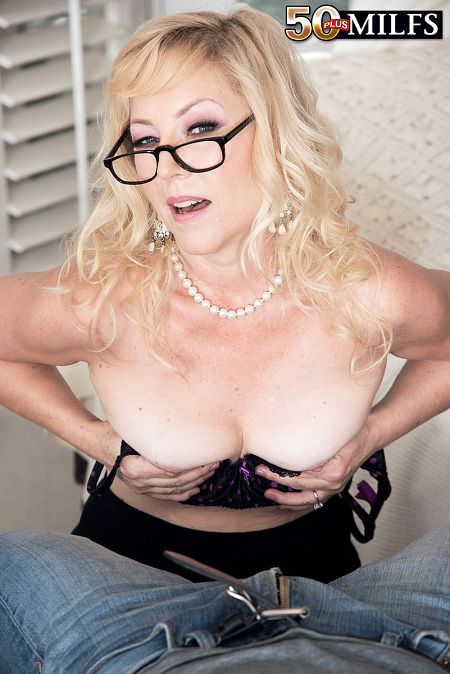 "I was a reporter for the Stockton Record. I ran my own small monthly and went into advertising. The last good job I had was selling yellow pages ads. I wound up getting into the computer industry," 53-year-old divorcee, mother and grandmother Justine, aka Badd Gramma, said of her road to porn.

"I was actually a geek for a number of years, and after the recession, I grew weary of silicon valley and, as you know, it's kind of a brotopia. So I became a dominatrix. I started shooting my own content for my website, and here I am. Yes, those Google geeks are some of my best customers!"

Here, Justine is geeked out in glasses that make her look even sexier than usual, if that's possible. She sucks Donnie's big cock, takes it deep inside her hairy pussy then opens her mouth for his cum. She's no cum dodger. She swallows every drop!

"My personal life is pretty normal, actually," she said. "I write poetry, which maybe isn't normal, and I'm also a mother and a grandmother. I do quite a bit of babysitting for my grandchildren. One of my kids is going to a university to get a chemical engineering degree, so that's one of the reasons I do what I do, so I can have the extra time and the resources necessary to support my family.

"I like to go out and sing karaoke. I like to go on the water. Boating, sailing, swimming. That sort of thing. I'm a huge X-Games fan and I love the Winter Olympics. I enjoy dancing, fine dining, arts and culture. All kinds. One night it's the ballet or symphony, the next a Marilyn Manson concert, so I'm into a lot of different kinds of music. I love reading a good memoir. Someday, I'll write my own. Right now, I'm living the dream. I still have a lot of my book to live."