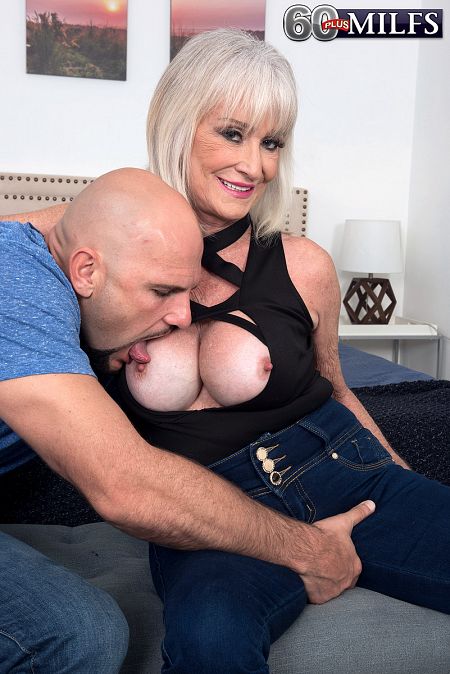 In her return to 60PlusMILFs.com, 65-year-old wife, mother and grandmother Leah L'Amour sucks and fucks JMac's big cock and lets him cum deep inside her pussy.

60PlusMILFs.com: You're in the swingers lifestyle, aren't you?

Leah: We are. My husband and I. We've been married 29 years, so a few years ago, he always wanted a threesome, like a lot of guys do, so I tried to do a birthday surprise for him and tried to get another girl to do a threesome, but back then, they weren't as open to things. They almost put me in jail over it.

60PlusMILFs.com: How did that happen?

Leah: Well, I was calling escort sites, and I was asking them if I could hire a girl to be in a threesome with us, and they said, "No, we don't do that." So, to make a long story short, I didn't get it put together, but he always wanted to do this, so five years ago, he said, "Why don't we look for a threesome again?" so we started looking, which brought us to the swingers sites, and that's how we ended up getting into the swingers lifestyle.

60PlusMILFs.com: So before that, you guys had never had a threesome?

Leah: No. We still haven't. We've planned threesomes, but for some reason, something doesn't work out. But we're still having a lot of fun in the lifestyle. We enjoy going to house parties.

60PlusMILFs.com: Tell us about these house parties. What would you wear to one?

Leah: Usually something sexy. You usually wear street clothes on the way over, but when you get to the house, you're welcome to change into lingerie, sexy clothes, no clothes. Hot-tubbing.

60PlusMILFs.com: Strip poker?

Leah: No, we just strip. Forget the poker. We just strip. We may have hors d'oeuvres or something like that. Party talk for a little while. End up going to the hot tub. If you're interested in playing with someone, we'll go to the bedroom and play. And then you progress. For me, I like to do single guys now rather than just married guys. A lot of times, people swap with other couples, but I've gone on to liking single guys, so I've been on dates without my husband.