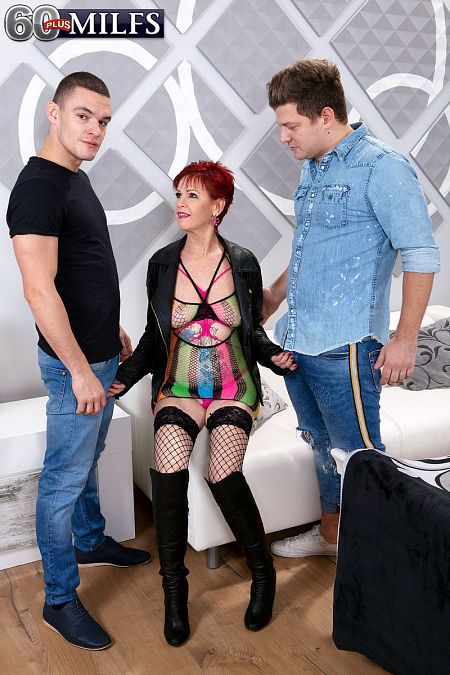 Caroline Hamsel is a hooker. There, we said it! What we mean is that in this scene, Caroline--a wife, mother and grandmother--is a 62-year-old street hooker dressed in a very sleazy outfit. She's wearing a fishnet dress, a leather jacket and knee-high leather boots. She's smoking a cigarette. Yeah, she looks like a cheap whore. That's exactly the point.

Anyway, Caroline is waiting for her next trick to show up when not one but two guys approach her. Yeah, she's available. "DP?" Why not? So they go back to her hooker pad and get their money's worth, fucking her mouth, pay-for-play pussy and tight whore asshole with their big, hard cocks before DP'ing her, filling her cunt and ass at the same time. Then they cum all over her face. Caroline eats some of the cum and lets the rest drip down her chin.

And we're going to bet that five minutes later, Caroline was back on that same street, looking for more strangers to fuck.

By the way, the guys fucking her are 29 and 26 years old, meaning their combined ages don't equal Caroline's.

Scenes don't get hotter than this one, especially when there's a 60Plus MILF involved.

Caroline in an English lady. She's 5'4" and weighs only 122 pounds.

We asked if she's changing sexually as she gets older, and she said, "Definitely. I'm becoming more sexually assertive. I've been with a lot of younger men, some as young as 19. I love their energy and hard cocks, and they seem to love me, which is very nice.

"I have a lot of sex, sometimes 15 or 20 times a week, including with my husband, so I'm getting even more experience. There are not a lot of women my age I know who have sex as much as I do. They don't know what they're missing. I'm finding that I'm becoming hornier and more-sexual as I get older. My husband can't keep up with me!"