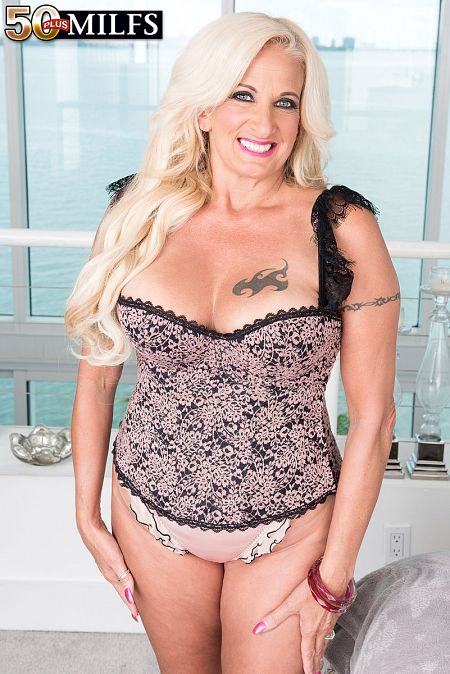 "My immediate family would be surprised to see me here because they are somewhat conservative. My husband is aware of what I'm doing."

So says Brooklynn Rayne, a 50-year-old mother of four and self-proclaimed cougar who lives in South Florida. Brooklynn has big tits. She's blonde and voluptuous and extremely horny. She's a happily married mother of four sons. She's a big-titted slut who had never done porn before she walked into our studio, and she performed like a pro.

We asked Brooklynn to tell us about her top three sexual experiences. Here's what she said:

"Number one was having anal sex for the first time and actually enjoying it. Number two was deep-throating a cock for the first time. It turned me on so much that I squirted all over. Number three was having kinky sex with a well-endowed man and having him bust three nuts one right after the other: one in my ass, the second in my pussy and the third in my mouth and all over my face. That was pretty awesome. As you can tell, I really love having anal sex."

Yeah, we can tell. Brooklynn takes it up the ass at both 40SomethingMag.com and 50PlusMILFs.com (she came back to shoot for us when she turned 50; she just couldn't get enough of that porn cock). Even in these photos, she fingers her asshole. Now that's a woman who loves anal!