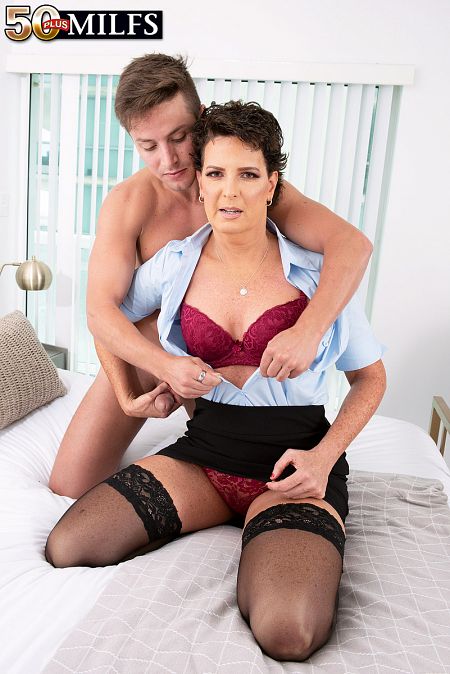 In these photos, 52-year-old Beth McKenna sucks and fucks a 24-year-old stud. Beth, a mom from Mississippi, loves having sex with young men. As for being watched while having sex...

"I love it!" she said. "It's one of the reasons I got into porn. It makes me really wet to know that people are getting off watching me fuck on-camera. I also get really turned on knowing others in the room are watching. That makes it so much hotter to me."

Beth is a hot woman. She's 5'10" with long, shapely legs and a tight body. She's bisexual--"I love sex with men and women pretty much equally," she said--and although she isn't a swinger, she's into a lot of wild things.

"I love car sex," she said. "With legs this long, car sex is a special challenge but one I enjoy. I also enjoy BDSM sessions, and one I had recently caused me 20 orgasms in a span of about 10 minutes. I'd say that's pretty kinky. I was spread-eagle, face down, with toys in both holes. The orgasms just rolled in, one after the other."