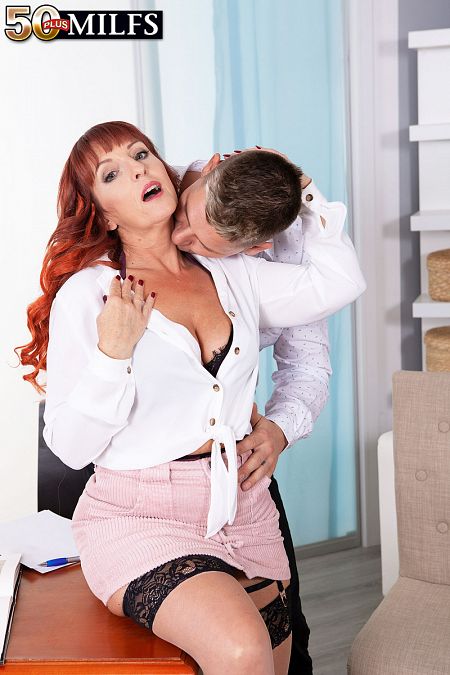 In her first fuck scene at 50PlusMILFs.com, 51-year-old British wife, mother and grandmother Beau Diamonds is tutoring a dude who's young enough to be her son. He has a big final exam coming up...in sex therapy. And since Beau knows all about sex, she's going to give him a hands-on lesson. She's going to show him all of her erogenous zones and teach him how to touch, lick and suck them. She's going to teach him how to eat a mature woman's pussy. Then she's going to suck his cock and have him fuck her every which way until he cums all over her asshole.

Looks like this guy's a fast learner. But then again, Beau is a very good teacher.

"I love sex," said Beau, who has long, beautiful, luxurious red hair, big tits, a curvy body and one of the pinkest, wettest pussies we've ever seen. "I have sex as much as possible."

What sexually satisfies her best? "Big, thick cocks."

Fetishes: "I like a little spanking. I also love accents."

Sexual fantasy: "To be locked in a room with a rugby team."

Is she sexually assertive or passive? "I'm assertive. I know what I want."