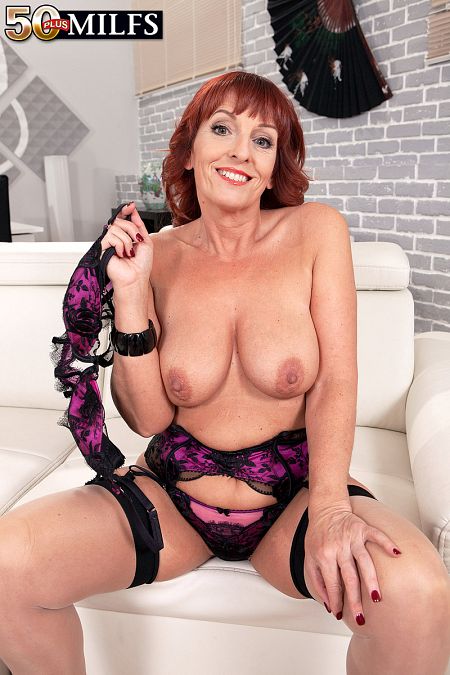 It's time to get to know Beau Diamonds, a 51-year-old wife, mother and recent grandmother from West Midlands, England (the portion of the UK that comprises Birmingham). This is Beau's first time at 50PlusMILFs.com, so we're going to spend the week with her:

Today: Photos of Beau showing off her beautiful MILF body and fucking herself with a dildo.

Tuesday: Video of Beau playing with her big toy.

Wednesday: Photos of Beau sucking and fucking a big cock.

Thursday: Video of Beau's first 50PlusMILFs.com XXX.

Yeah, Beau is married. Yeah, she has kids and a grandchild. But she's also a porn star.

"A lot of my friends and family know what I do for a living, so I don't think they would be surprised to see me here," Beau said.

Beau is short 'n' sexy: five-feet tall, 120 pounds. She has pretty, beautifully shaped tits, a curvy body and a bare pussy that she loves to spread for you. Some of our favorite photos in this set are when we're above Beau and looking down at her. She's smiling, legs spread, pussy spread, as if she's saying, "Would you rather eat it or fuck it?" Fortunately, you don't have to choose.

Beau, the 50PlusMILFs.com stage is all yours!