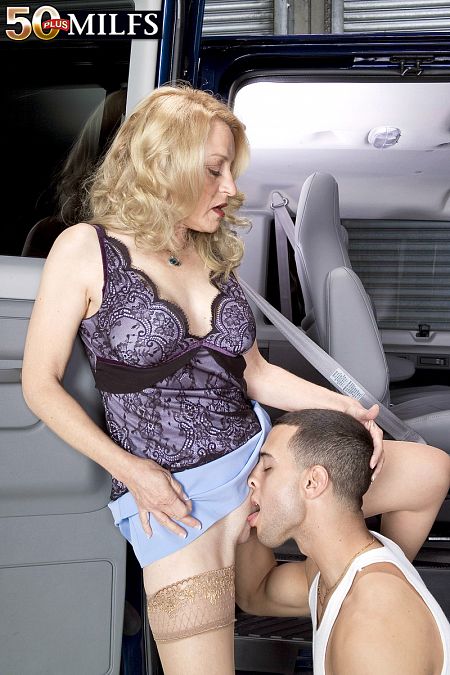 Attention! This is one of those times when the photos might be hotter than the video. In the video, 50-year-old Robin Pachino gets her pussy fucked by a 23-year-old mechanic. Then he cums on her stomach.

In these photos, Robin, who loves anal, takes the dude's big cock up her tight ass and his cum on her asshole.

What kind of woman gets her ass fucked by a 23-year-old stranger on a garage floor?

A slut.

"I have a little submissive streak, so getting fucked on the dirty floor of a garage was a real turn-on," Robin said. "I became a slut when I turned 50. What else would you call a woman who, out of the blue at age 50, decides to start fucking strangers in front of the camera? I know what my ex-husband and my children would call me if they knew. They'd say I became a slut. Okay. I'm proud of it."

Not that she cares what her ex-husband thought.

"My old job was boring," she said. "My marriage was boring. My life was boring."

It stopped being boring.

"Why did I get into porn?" Robin said. "Because I wanted to get fucked by young studs. Because I love anal. Because I thought it was the best way to enjoy anal sex. Because my life was boring and I needed some excitement."

Robin's message to her ex-husband: "He's an asshole for losing the best piece of ass he'll ever have. Eat your heart out, baby!"