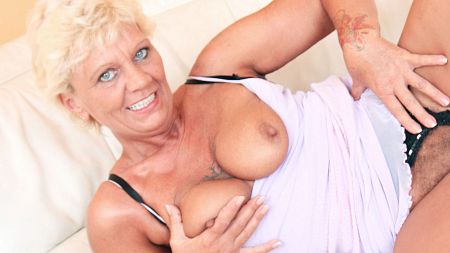 There are times when you watch a hardcore fuck scene and think, "We're not watching performers. We're watching real people having real sex. These people aren't doing it for the money. She's doing it because she loves big cock and he's doing it because he loves MILF pussy." The action is so intense, so intimate, that it's as if the camera just happened to be there.

This is one of those scenes. It stars Bonnie Sanders, a 51-year-old divorcee and mom, and big-dicked Lazlo. Bonnie has a very hairy pussy, which we find out right away. When the scene opens, Bonnie's tits are out, her nipples overflowing her lingerie. She has her panties pulled to the side--she's in too much of a hurry to take them off--and she's rubbing her pussy.

Then her guy, Lazlo, shows up and goes right for her wet cunt. He wants to eat that bearded clam, and she appreciates the attention. You can tell by her moans. He appreciates her hairy pussy. Then he sucks on her tits, which really gets her off. He doesn't take it easy on her nipples. He sucks them hard, like a vacuum. They kiss while he fingers her pussy, which gives the action an extra dose of realism.

But what she really wants is his big, thick dick, which is already hard and ready for her wet mouth. She sucks it lustily, lovingly, going as deep as possible, and we've gotta wonder how the lucky guy doesn't shoot his load in her mouth right then and there. Check out Bonnie's tongue action. Check out how she massages the base of his balls.

He turns her around and fucks her from behind, not even bothering to take off her panties, which are down around her thighs. Then she sits on his cock, her big ass rippling as his cock goes in and out of her tight cunt. Between positions, she sucks her pussy juice off his cock and obviously likes the way it tastes. Like we said, this guy is a better man than we are because we'd cum right then and there. But he doesn't. He still wants to fuck that MILF pussy in a few more positions: first, reverse cowgirl, which gives us the best look yet at her hairy cunt, then spoon, which enables him to get balls-deep in her pussy as she sensuously sucks on his finger like it's a cock.

She goes down and sucks his dick some more, savoring her own pussy juice, and at this point, there's no holding back. He finally empties the contents of his balls in her mouth, and does Bonnie flinch? Does she turn away? No way! She wants to eat his cum.

Now that's a porn scene!