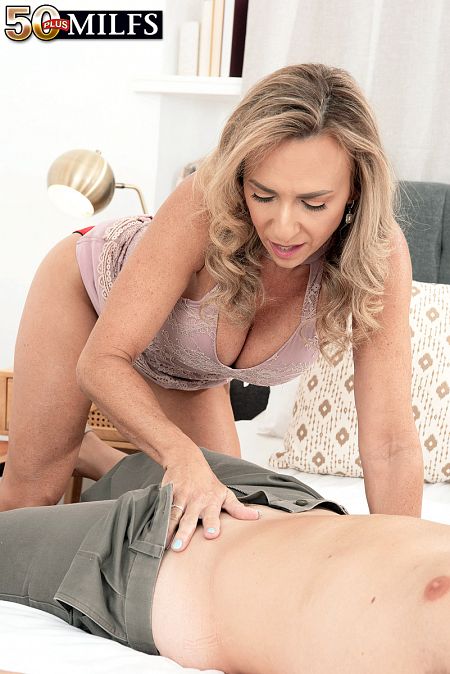 Kenzi Foxx and her guy have just gotten home from their date, and it's time to get down to business. Kenzi, a 50-year-old wife and mom, wearing a tight, short, nearly backless dress, pushes her guy onto the bed and sucks his cock and balls, and you can tell how much she loves the family jewels. Before long, he's fucking her pussy through her crotchless panties, then he fucks her tight ass and cums all over her big tits. This is a very hot scene.
Things that surprise us about Kenzi:
• She likes romantic comedies. In these photos and the video, Kenzi doesn't seem at all like a romantic, but there you go. Perhaps the route to her tight pussy and tighter ass is paved with red roses.
• She's a flirt. This is surprising because absolutely no flirting happens here. Just sucking and fucking.
• She's a mother of three. With that body? Amazing. But we have to wonder what her kids think about the nipple jewelry. Most moms do not have that.
Something that doesn't surprise us about Kenzi: "I love having my ass played with and fucked. I love anal!"
The proof is in the pictures.