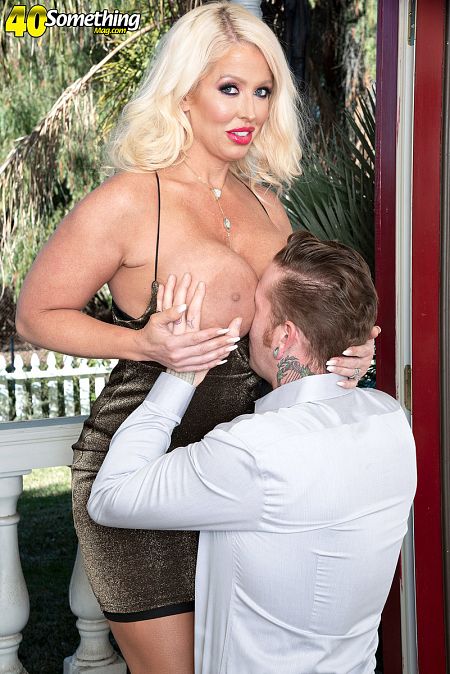 Super-hot, cock-loving MILF Alura Jenson makes her first appearance at 40SomethingMag.com and gets fucked in her big, tight ass. No surprise there. Anal is almost always on the menu with 41-year-old Alura, who once told us, "If we're not fucking on the first date, there won't be a second date."

Alura isn't like most porn starlets. She was once in the U.S. Navy. She's a mom. After getting divorced and leaving the military, she moved to Las Vegas and became a stripper at the all-nude Palomino Club. She got an offer to appear in hardcore in 2011 and never looked back. She lists her top three sexual experiences as "all of my gang bangs, drunken sex and sex with strangers."

Here are some more interesting tidbits about Alura:

• "I very rarely masturbate. I have so much sex. I don't feel the need to masturbate, but when I do, it's usually quick. I'll glide my fingers over my clit until I climax."

• "The funniest pick-up line I've ever heard from a man was 'Excuse me, Miss. I couldn't help but notice that your pussy was talking to me.'"

• "I've been with a lot of girls. I absolutely love women. I'm not gay but that's only because I love dick so much. My sexual fantasy is to be the grandmaster of an orgy."

Alura never holds back. She gives her all in every scene. She loves to fuck. She loves having a big cock in her ass. Like we said, there aren't many like her.