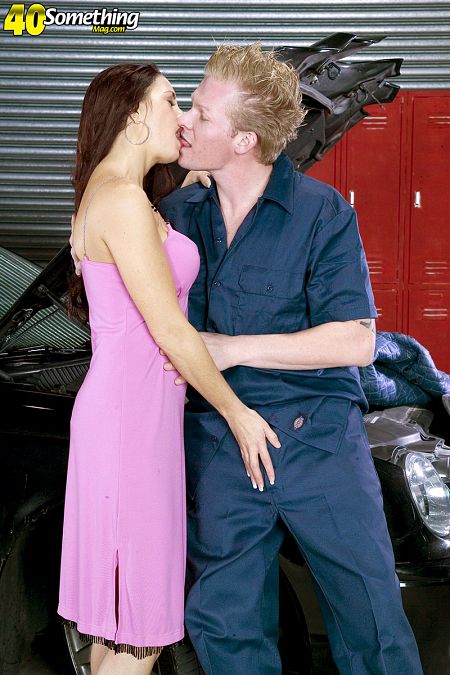 "Auto mechanics turn me on," 41-year-old Cheyenne Hunter said. "They're so dirty and grungy and they know how to work with their tools." She laughed. "I loved sucking on J.T.'s piston rod. I especially enjoyed it when he did a full inspection of my back end."

Cheyenne really gets fucked hard in this scene, and it happens on the floor of a garage. Well, when a woman like Cheyenne needs cock, she doesn't care where she gets it.

"I'm a romantic," she insisted. "I like a man who knows how to treat a woman, but how should a man treat a woman? I mean, just because a man is polite and opens doors for a woman shouldn't mean he doesn't know how to fuck her. Some men think they're not being gentlemen if they really slam a girl's pussy hard. No! You're a gentleman if you fuck me good and make me cum!"

However...

"You're not being a gentleman if you try to stick your cock in my ass without asking first. So just ask. Chances are I'll say yes. In fact, I'll probably spread my ass cheeks wide so it's easier for you to slide right in. And don't even think about babying my ass when you're in it. Fuck it hard! I wanna hear your balls slapping against my cunt!"