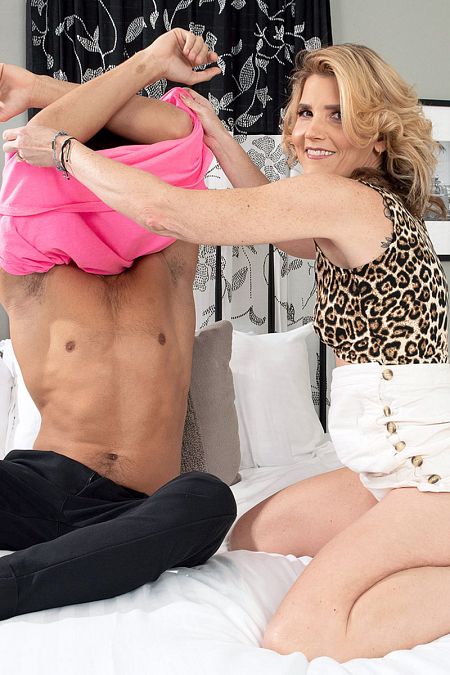 Milan is lying in bed, minding his own business while Alby Daor does some cleaning around the house, when Alby bends over and Milan sees that she has a butt-plug stuffed up her asshole. Nice. This is what you call multi-tasking: cleaning and getting your ass ready for cock at the same time.

Gentlemen, there aren't many sure things in life, but this is one of them: If a woman is wearing a butt plug, she wants to get fucked in her ass.

"You like?" Alby asks. "Maybe you should take it out. Take out my butt plug with your teeth. That would be hot."

Indeed it is! Then she asks him to play with her asshole. She doesn't have to ask twice.

Alby, who's a 51-year-old wife and mom, sucks his cock and balls and Milan fucks her throat. And now his 26-year-old cock is ready to fuck her pussy, right?

Wrong.

"I want you to fuck me in the ass," Alby says. "Put your big cock in there."

Again, she doesn't have to ask twice.

The thing is, Alby is a little woman. She weighs 98 pounds. And Milan has a big, thick cock. You'd think a little lady like Alby wouldn't be able to take such a big cock in her tightest orifice, but you'd be wrong. He really has his way with her ass, jack-hammering it with his cock before he shoots his load on her puckering asshole.

"I love anal sex when the man knows how to do it right," Alby said. "Milan knew how to do it right."