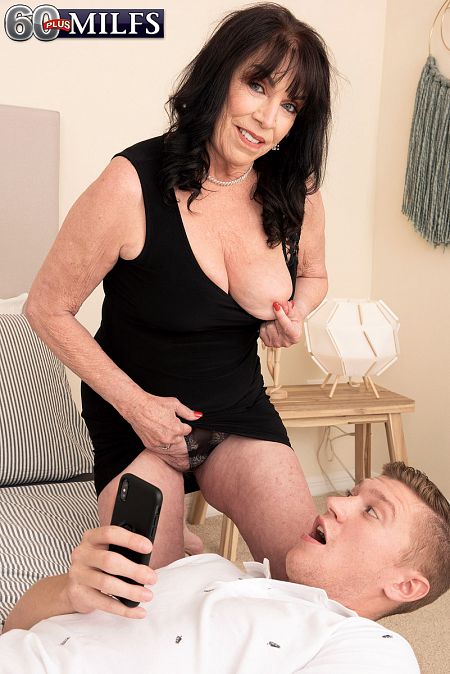 Oliver is in bed when 71-year-old Christina Starr walks in on him. He's jacking off while watching Sally D'Angelo fucking two dudes at 60PlusMILFs.com, and the sight of him playing with himself makes her horny.

"What were you looking at?" Christina says as Oliver tries to cover up.

"Nothing," he protests.

It didn't look like nothing.

"I know what you were looking at," Christina says. "You were looking at older women."

"I can't believe you saw that. It's supposed to be a secret," he says.

"Oh, it's more than alright," she says, sitting down and stroking his leg. "Older women like younger men. Did you know that?"

"I didn't know that," he says.

"You were here to see my grandson, right?"

She keeps stroking his leg.

"You're making one of my fantasies come true," he says.

"So let's make it happen," she says.

She makes it happen by sucking his cock and balls and then letting his 25-year-old cock fuck her 70something pussy and cum in her mouth. As for the grandson, he never shows up, and that's all for the best, right?

For the record, although Christina is married and has children and grandchildren, she is a cougar.

"I was 63 when I was in a relationship with a hot 26-year-old," she told us. "He was totally into older women."

But the age difference is even greater here. And just in case you're wondering how 25 goes into 71...very well.