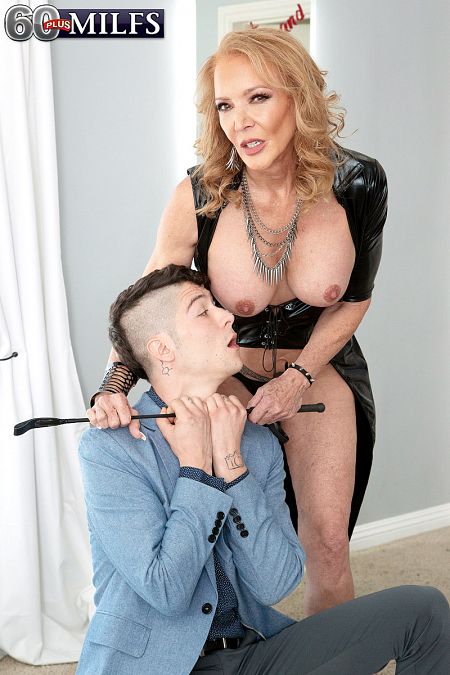 This scene was inspired by the test shots that 63-year-old Sierra Fontaine sent to 60PlusMILFs.com. In a few of those shots, which we reviewed before deciding whether or not to invite Sierra for a photo shoot (an easy decision), Sierra was wearing a very fetishy dominatrix's outfit. We like to make our MILFs and GILFs feel comfortable, so for Sierra's first-ever on-camera fuck, we decided to have her be a dominatrix in a black, vinyl outfit that shows off her beautiful body.

"I consider myself to be a submissive/switch," Sierra said. "I do like to play a dominatrix because I love variety."

So, Sierra totally dominates 24-year-old Connor, although when a woman like Sierra is sucking and fucking your cock like she's doing here, it's pretty easy to submit to her demands.

Sierra is a divorcee, mother and grandmother from Arizona. She's 5'10" with long, thin legs and big, fake tits. We asked her if she's ever had sex with a much-younger man, and she said, "Yes, and I love a young, hot, hard body. I have to say I love their stamina, and if they're a multi-cummer, so much the better."

Here, Connor cums once: all over Sierra's pretty face. It drips down her chin and onto her tits while Sierra smiles happily. We're glad her first time was a good one. Now check out the video.